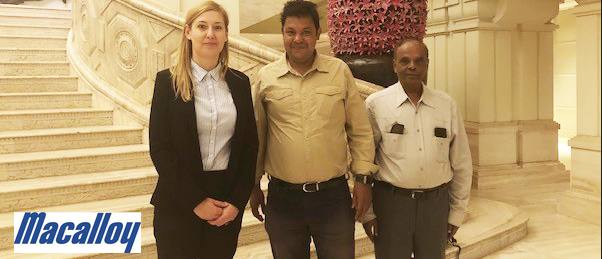 MACALLOY REVEALS PLANS FOR FURTHER GROWTH IN INDIA
Published 18 February 2021 at 10:59am
Macalloy, the manufacturer of tensioning bars, tie rods and cable systems, which is celebrating its 100th anniversary this year, is planning to expand its operations in India.
The company, which has been trading in India for over 40 years, spotted the opportunity to join the India Growth Champion Scheme, run by Sheffield City Region in conjunction with UKIBC (UK India Business Council), as it wanted to increase its connections with India and secure new opportunities with infrastructure partners.
With over 40 years' trading history in India, the company's 'Macalloy Bar' is renowned as the industry standard for post tensioning bars for bridges, roads and railways in India. Advisors at the India Growth Champions Scheme carried out an in-depth research project and have been able to provide
Macalloy with a database of India's architects, consulting engineers and construction companies. Macalloy is planning to make meetings with key contacts at this year's Trade Mission to India.
Macalloy currently has an Indian distributor based in Chennai. Through the India Growth Champion Scheme Macalloy also plans to appoint a new Indian agent and to potentially create a full time sales agent position there, to further expand its market.
Peter Hoy, Managing Director at Macalloy, said: "India is a key market for us and one where we see huge growth potential because of the major infrastructure projects planned here in the next few years. The India Growth Champion Scheme should help us to open more doors and to get in front of the right people to secure a greater number of product specifications for the Macalloy Bar."
He adds: "We manufacture everything we sell at our factory in Dinnington and currently around 85% of our product is exported. We are really excited about the possibilities to extend our market further in India and to maximise on the major bridge building projects there."
Macalloy products have been used on many high-profile projects including the Royal Jubilee Bridge in London, Bangalore Airport, The Mumbai Trans Harbour Link and a number of other bridges across India. Macalloy has also supplied to metro projects across India.
Sir Nigel Knowles, International Advisor to Dan Jarvis, Mayor of the Sheffield City Region: "Macalloy already has a proven track record in India and has won some prestigious contracts here. As a forward-thinking business, Macalloy has recognised the great opportunity to extend its market presence in India. With the support and extra resource of our business advisors with expertise in the Indian market, we expect that Macalloy and other similar companies can benefit from new connections to grow in this rapidly developing economy."
Katarzyna Paciorek, Area Sales Manager for Macalloy, said: "British brands are very strong in India, and UK companies have a great leverage when looking at developing their brand visibility there. Our main goal this year is to tap into market opportunities via buyers, specifiers and consultants."
She adds: "We know it's very important to nurture existing relationships with our Indian partners. It proves to be quite difficult during a pandemic when it's impossible to mark our presence on the ground in person. We're doing our best with the help of WhatsApp or Teams Calls. We're hoping that the India Growth Champion Scheme will help us connect with many new partners who we can cooperate successfully with in the future."
Kevin McCole, Managing Director, UK India Business Council, said: "There are fantastic opportunities in India for advanced manufacturing and engineering businesses and we are really looking forward to supporting Macalloy further in their expansion into India. Our Trade Mission will be a fantastic opportunity for Macalloy to get face to face with some key contacts to set them on path to future growth in this market."
About Macalloy
Based in Sheffield the steel heartland of Great Britain, Macalloy's roots can be traced back almost 100 years. In December 1921 McCall and Company (Sheffield) Ltd was formed to supply cut and bend reinforcing steel to the domestic market. The company developed a chrome-alloy bar for use in post-tensioning concrete applications, registering the Macalloy name in 1948.
The company grew rapidly fuelled by the post-war construction boom and in the 1980s developed a hanging roof using external bracing for the car company Renault, which went on to win numerous design awards.
Many of the world's leading architects adopted the design principals in their own innovative structures such as Chicago Arts Institute (Architect Renzo Piano), Louis Vuitton Foundation Paris (Architect Frank Gehry) and 88 Wood Street, London (Architect Richard Rodgers).
For more details visit www.macalloy.com.
About the Indian Growth Champions Scheme
Experts predict that India will be the third biggest economy in the world by 2030 and it is expected to grow at an average of 5.9% per annum until 2050, making it the most rapidly expanding of all G20 countries. In 2015, the Sheffield City Region exported £81m worth of goods to India – making it the region's 12th largest trading partner.
In 2017, Sheffield City Region introduced the strategy: 'Make in India, Design and Develop with the Sheffield City Region'. Since then, the relationship between the Sheffield City Region and India has grown and developed and has been able to open up greater trading opportunities.
To find out more or apply for the scheme, visit https://scrinvest.com/how-we-help/india-growth-champions-scheme
INFO & SHARE
Last Updated: 18/08/2022
Published In: Invest
LOOKING FOR SOMETHING OLDER?
Browse our archive of press releases older than 12 months.
BROWSE ARCHIVES
The latest news...
To find all of our press releases and news stories visit our dedicated news section
SEE ALL NEWS