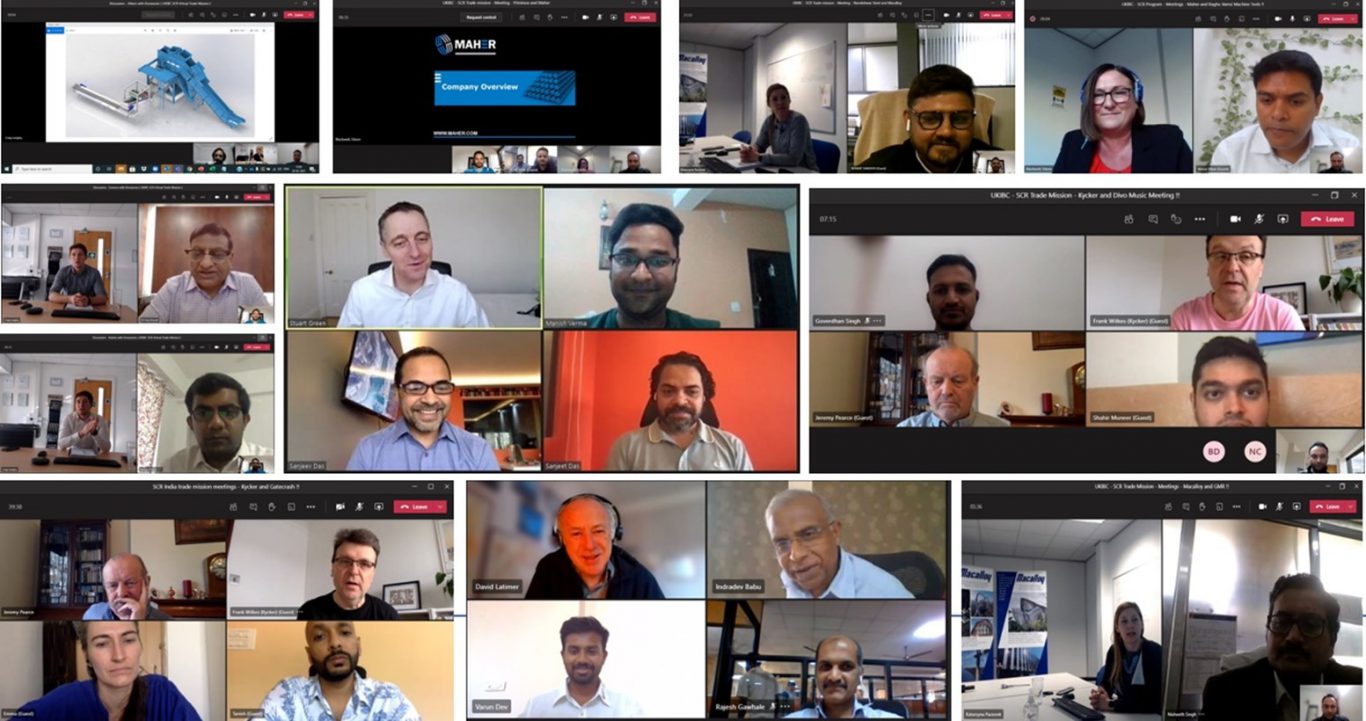 VIRTUAL TRADE MISSION A HUGE SUCCESS, SAY SOUTH YORKSHIRE BUSINESSES
Published 19 April 2021 at 12:07pm
Virtual trade mission a huge success, say South Yorkshire businesses
A recent virtual trade mission, which was organised by the UK India Business Council in partnership with the Sheffield City Region (SCR) LEP, involving South Yorkshire businesses and companies in Pune in the state of Maharashtra, India, has been hailed a huge success.
The trade mission ran for six weeks and involved SMEs which are part of the India Growth Champion Scheme, meeting with 50 companies from India to discuss trading and business development opportunities, as well as forming partnerships for mutual benefit.
UKIBC Managing Director, Kevin McCole said: "It is no surprise that the India Growth Champion's mission to India has generated so much positivity, both in the UK and in India. The Sheffield City Region, home to some of the UK's most innovative businesses has a huge amount to offer India and, in particular, Pune given the industrial complementarities between the two regions. The team and I are really looking forward to continuing to support the Growth Champions on their India journey and hope that we will soon be able to actually visit India later this year."
SCR International Advisor to the Mayor, Sir Nigel Knowles said: "This was a hugely successful virtual trade mission, which has been of great value to the South Yorkshire businesses which took part. This is just the start of establishing some really positive relationships, which should lead to strong partnerships being built between businesses from our region and India, for mutual benefit."
The India Growth Champions are SMEs based in the South Yorkshire region which applied to receive support to build business links with India. Each company received 10 funded days of dedicated support, alongside the development of an India business plan, workshops and business mentoring, plus virtual and hopefully an actual trade mission.
Thomas Harrison, Managing Director of Kingkraft, which provides specialist equipment for people with disabilities, said: "With our market being quite niche, it has been hugely helpful to have Sheffield City Region and UKIBC to find partners for us and the discussions we have subsequently had have been productive. We are very much looking forward to progressing that in the future and extend our thanks to all involved."
Frank Wilkes, CEO of Kycker, a digital music publishing business, said: "We really appreciate the work of the India Growth Champions Scheme, which has been a great help to us. The information we received on the Indian market has been phenomenally good and led to success with prospective partners in our discussions at the virtual trade mission. We really appreciate the support we have had."
Stuart Wesley, Managing Director of Robson Handling, a materials-handling provider, explains: "Our experience on the India Growth Champions Programme has been wholly positive. The report we received on the Indian market gave us a very good insight and has helped us to set up productive meetings on the virtual trade mission, with a good range of customers and consultants, as well as suppliers and manufacturing partners."
Stuart Green, CEO at Zoo Digital, a provider of cloud-based dubbing, subtitling, localisation and distribution services, comments: "The virtual trade mission provided an opportunity to speak to organisations with which we can partner in India. It has been an incredibly valuable exercise."
The India Growth Champions Scheme is a joint venture between Sheffield City Region and the UKIBC, launched in 2020. The scheme supports several South Yorkshire companies that were looking to build business links with India.
In 2017, the Sheffield City Region introduced the strategy: 'Make in India, Design and Develop with the Sheffield City Region'. Since then, the relationship between the Sheffield City Region and India has grown and developed and has been able to open up greater trading opportunities. Experts predict that India will be the world's third largest economy by 2030.
Trading with countries such as India is expected to help Sheffield City Region businesses to recover from the Coronavirus lockdown, with international trade expected to be a key factor in driving forward future growth and prosperity in the region.
To find out more about how the Sheffield City Region works with India, click here.
For more details about the Sheffield City Region, see Sheffieldcityregion.org.uk and scrinvest.com.
ENDS
About the Sheffield City Region.
Located in the heart of the United Kingdom, the Sheffield City Region is an important part of the economy of the North, with excellent connectivity via road, rail and air, as well as fast links to international seaports.
The Sheffield City Region is recognised throughout the world for its expertise in high precision engineering, metals and alloy production and high-quality design and manufacturing of products for a wide range of global industries. Its specialities include light weighting, machining and forging, cutting tools, sealing technology, valves and pumps, specialist materials, electronics, robotics and innovation.
The region is host to many world-leading manufacturing and engineering companies including; McLaren Automotive, Rolls-Royce, Tata Steel, Siemens VAI, AESSEAL, Dormer Sandvik, Gripple, Sheffield Forgemasters, LUK UK, Bridon International, Pegler Group, Swann Morton, ATI Allvac and many more.
The Sheffield City Region serves the supply chains of many international manufacturing and engineering market sectors, including the civil nuclear, offshore wind, low carbon energy, aerospace, automotive, defence, medical, and oil and gas industries.
The region's ability to design, develop and distribute innovative product solutions, with partnerships between its universities and businesses, places it at the forefront of the fourth industrial revolution.
The Sheffield City Region's Global Innovation Clusters link assets include:
Advanced Manufacturing Innovation District (AMID)
University of Sheffield's Advanced Manufacturing Research Centre (AMRC)
Sheffield Hallam University's Advanced Wellbeing Research Centre (AWRC)
Sheffield Olympic Legacy Park
Advanced Transport and Infrastructure National College
Barnsley Digital Media Centre, the hub for digital, creative and tech
iPort, from bespoke mega-warehouses – iPort offers logistics space that is built to suit.
Doncaster Sheffield Airport
Key statistics: Sheffield City Region
1,402,900 POPULATION
662,000 JOBS
47,175 BUSINESSES
£27 billion GVA
The region's proximity to areas of outstanding natural beauty, with vibrant towns and cities and a superb quality of life, means the Sheffield City Region is attracting global manufacturers to relocate here.
Press enquiries:
Nici Pickering, Sheffield City Region
Email: nici.pickering@sheffieldcityregion.co.uk
Marina Wood, Dragonfly PR Ltd or Rebecca Hart
Email: marina@dragonflypr.co.uk or rebecca@dragonflypr.co.uk
Tel: 0114 349 5341
INFO & SHARE
Last Updated: 16/08/2022
Published In: General Enquiry
LOOKING FOR SOMETHING OLDER?
Browse our archive of press releases older than 12 months.
BROWSE ARCHIVES
The latest news...
To find all of our press releases and news stories visit our dedicated news section
SEE ALL NEWS