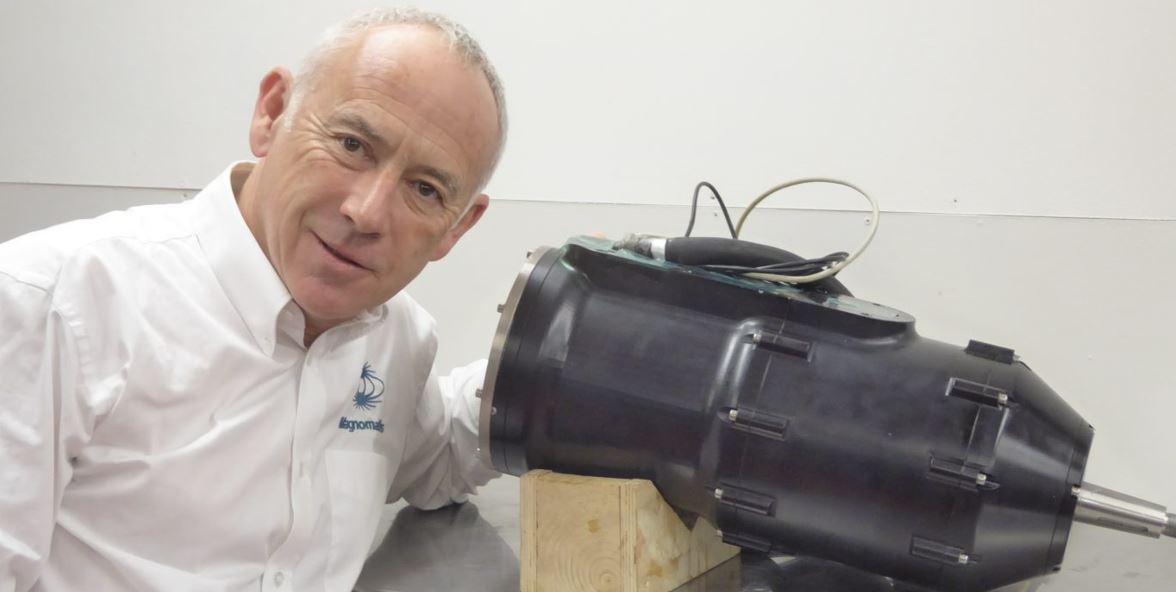 SHEFFIELD TECHNOLOGY COMPANY SECURES GROWTH AND SETS SIGHTS ON NEW INTERNATIONAL MARKETS
Published 2 December 2020 at 12:05pm
Magnomatics, the Sheffield-based magnetic gear technology company, has achieved 10% year on year growth, despite the global pandemic and has embarked on a programme to generate more business opportunities in India.
Like most businesses, Magnomatics experienced a slowdown back in March as a result of the UK lockdown, but its design engineers and management team continued working from home and this has resulted in the company securing a number of new contracts, which means it is now predicting 30% growth in 2021.
Dave Latimer, CEO of Magnomatics, explains: "Our growth has been slower than we expected this year in sectors such as oil and gas, but we've found new opportunities in commercial vehicle technology and offshore wind production. We now have a record order book and are very optimistic about the future."
Back in June, Magnomatics was selected as one of a number of companies in the region to embark on the India Growth Champion Scheme. The scheme is designed to assist businesses in developing their links with India, particularly in advanced manufacturing and healthcare. The Indian Growth Champions will have the opportunity for 10 days of dedicated business support, plus the development of an Indian business plan. In addition, they will be guaranteed at least five appointments with potential partners as part of a trade mission to India in 2021.
Dave Latimer said: "We applied for the Sheffield City Region's India Growth Champions Scheme as we see India as an emerging market and are looking forward to building new connections and opportunities here in 2021. Our technology is increasingly becoming widely recognised across the world for a multitude of applications including marine propulsion, automotive and the wider industrial markets."
Sir Nigel Knowles, International Advisor to Dan Jarvis, Mayor of the Sheffield City Region: "Magnomatics is really driving forward with its technology and was an ideal candidate for the India Growth Champions Scheme. There are some fantastic opportunities emerging in India and with the support and guidance of business advisors with expertise in the Indian market, we expect that companies like Magnomatics will benefit from many new connections and opportunities to grow and develop links with this rapidly growing economy."
Kevin McCole, Managing Director, UK India Business Council said: "It is really exciting to see Magnomatics' growth and well-deserved recognition worldwide, especially as this year has been so challenging for the UK and global economy. This is a tremendous achievement, and the UKIBC is delighted to support Magnomatics through the India Growth Champions Scheme we are running in partnership with the Sheffield City Region. There are fantastic opportunities in India for advanced manufacturing and engineering businesses and we are really looking forward to supporting Magnomatics, including on our trade mission to India next year. We're sure it will lead to 2021 being another great year for not just David Latimer and his brilliant magnomatics team, but also for all the Indian Growth Champions."
In addition, Magnomatics recently secured a grant of £300k as part of Government funding to develop and supply power electronic, machines and drives for the manufacture of large generators for offshore wind.
As a collaboration, Magnomatics is working with the AMRC on a programme to research into use of robots to manufacture its technology. The company plans to start manufacturing its proof of concept units at its premises in Sheffield in the next couple of years. Magnomatics is also working with Donasonic, a Doncaster company which provides recycling solutions for waste material, to design technology to be used in shredding machines for the refuge industry.
Magnomatics has a robust apprenticeship programme and works closely with The work-wise Foundation, the South Yorkshire based employer led charity that aims to stimulate young people's interest in engineering and manufacturing careers.
Dave Latimer adds: "Work-wise has been a great help in identifying new talent. We usually have two or three students on placements with us, with a view to offering them apprenticeships in the future. We also recruited one pupil after meeting him at a work-wise event and after he finished school, he joined us as an apprentice and is now a fully skilled fitter."
Magnomatics Ltd is a technology company formed in 2006 as a spin-out from the University of Sheffield. The company is commercialising products based upon proprietary magnetic gear technology.
About the Indian Growth Champions Scheme
Experts predict that India will be the third biggest economy in the world by 2030 and it is expected to grow at an average of 5.9% per annum until 2050, making it the most rapidly expanding of all G20 countries. In 2015, the Sheffield City Region exported £81m worth of goods to India – making it the region's 12th largest trading partner.
In 2017, Sheffield City Region introduced the strategy: 'Make in India, Design and Develop with the Sheffield City Region'. Since then, the relationship between the Sheffield City Region and India has grown and developed and has been able to open up greater trading opportunities.
To find out more or apply for the scheme, click here.
About Sheffield City Region.
Located in the heart of the United Kingdom, the Sheffield City Region is building a Global Innovation Corridor that connects people, businesses and ideas.
Sheffield City Region's assets include:
Advanced Manufacturing Innovation District (AMID)
University of Sheffield's Advanced Manufacturing Research Centre (AMRC)
Sheffield Hallam University's Advanced Wellbeing Research Centre (AWRC)
Sheffield Olympic Legacy Park
Barnsley Digital Media Centre
iPort
Doncaster Sheffield Airport
Sheffield City Region has:
4 million residents
43,000 businesses
17 million people of working age
373,000 people with a degree or equivalent
£34 billion economy
The region's proximity to areas of outstanding natural beauty, with vibrant towns and cities and a superb quality of life, means Sheffield City Region is attracting global manufacturers to relocate here.
Sheffield City Region's ability to design, develop and distribute innovative product solutions, with partnerships between our universities and businesses, places it at the forefront of the fourth industrial revolution.
INFO & SHARE
Last Updated: 18/08/2022
Published In: Invest
LOOKING FOR SOMETHING OLDER?
Browse our archive of press releases older than 12 months.
BROWSE ARCHIVES
The latest news...
To find all of our press releases and news stories visit our dedicated news section
SEE ALL NEWS