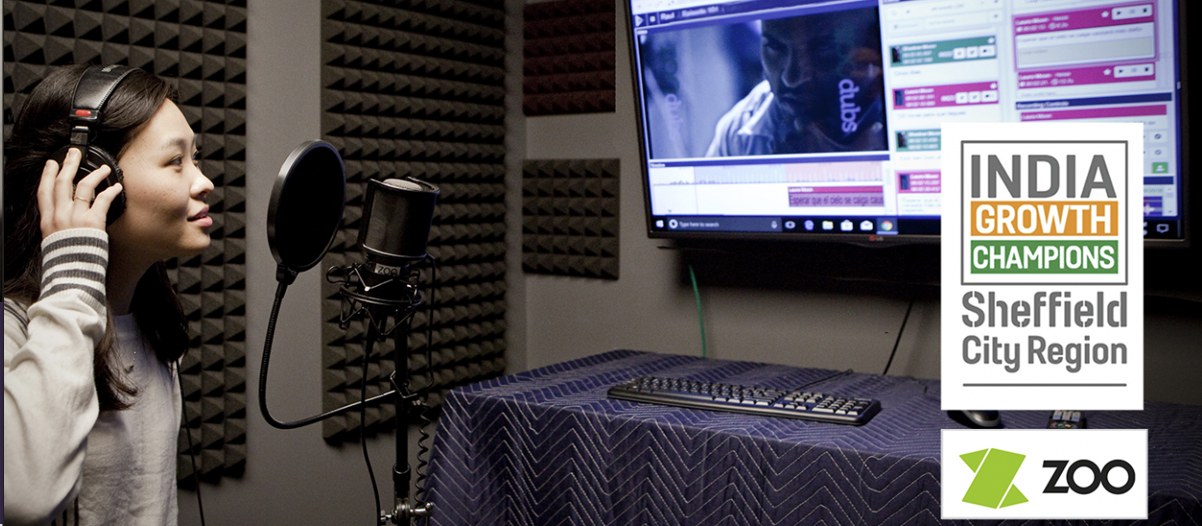 SHEFFIELD'S ZOO DIGITAL MAKES A MOVE TOWARDS GROWTH IN INDIA
Published 5 March 2021 at 9:01am
Sheffield's Zoo Digital Makes a Move Towards Growth in India
ZOO Digital, the Sheffield-based leading provider of end-to-end cloud-based localisation and media services to the global entertainment industry, is moving forward with its ambitious plans to expand its business in India.
The company, which works with over 8,000 freelancers around the world, identified the opportunity to expand its services into India, due to the significant regional growth plans of its clients including the major Hollywood studios and streaming services. These plans are bolstered by the rapid growth of broadband penetration and mobile technology in the region to enable streaming video services. ZOO is ideally placed to service this market thanks to its cloud-based localisation technology and a multi-language approach that is needed in a country that uses a number of different languages.
Through the India Growth Champions Scheme, delivered by the Sheffield City Region, the company plans to set up partnerships with Indian media localisation service providers which will enable it to significantly expand its capacity to deliver Indian languages to its clients in international markets.
ZOO Digital has benefited from a Market Intelligence report produced by the India Growth Champions Scheme which identified a wide variety of potential partners that supply the entertainment industry.
The company also recently took part in the India Growth Champions Scheme Virtual Trade Mission, enabling it to build relationships directly with some of these partners.
Stuart Green, CEO of ZOO Digital, explains: "We are looking to accelerate our capabilities for the languages of India and the India Growth Champion Scheme has given us a great platform to do this. Through the scheme, we have been able to identify potential partners who offer media localisation services in India and have that all important experience of the local market. We have met with a number of these partners on a virtual Trade Mission and hope to build on these relationships over the coming months."
Stuart Green adds: "The impact of COVID-19 has led to greater demand for video content through the streaming services. The number of new productions may have temporarily declined during the pandemic, but this has been offset by an increase in back catalogue work of TV series and feature films that are being delivered to global streaming services. We see great opportunities not only in India but also in South East Asia, which is another important target market. We've created a significant number of jobs in Sheffield, London and in our offices in Los Angeles and Dubai over the past 12 months and are well placed to meet the demand from the industry."
ZOO Digital offers a unique service delivered through its proprietary systems that are implemented as cloud platforms, which means that all employees and over 8,000 artists can work securely from home using a web browser to generate content.
The company provides a one-stop-shop solution to international clients looking to globalise their content, by offering them a range of services from subtitling, dubbing (in any language) to generating the content in the right technical formats and distribution anywhere in the world by using its software. ZOO Digital is headquartered in Sheffield, with production hubs in London, Los Angeles and Dubai.
Sir Nigel Knowles, International Advisor to Dan Jarvis, Mayor of the Sheffield City Region, said: "ZOO Digital is an innovator and disruptor in the entertainment industry with huge growth potential. The India Growth Champion Scheme is set to catapult the company forward, helping them to establish key partnerships in India, which will open up new global markets. We are looking forward to seeing what new opportunities this will bring for ZOO Digital."
Kevin McCole, Managing Director, UK India Business Council, said: "It has been great to see the immediate interest in ZOO Digital's work from Indian businesses at our virtual roundtable and trade mission last week. We look forward to continuing to support Stuart Green and his team on their India journey, helping them access the opportunities and partnerships that their innovation deserves."
For more information visit www.zoodigital.com
About the Indian Growth Champions Scheme
Experts predict that India will be the third biggest economy in the world by 2030 and it is expected to grow at an average of 5.9% per annum until 2050, making it the most rapidly expanding of all G20 countries. In 2015, the Sheffield City Region exported £81m worth of goods to India – making it the region's 12th largest trading partner.
In 2017, Sheffield City Region introduced the strategy: 'Make in India, Design and Develop with the Sheffield City Region'. Since then, the relationship between the Sheffield City Region and India has grown and developed and has been able to open up greater trading opportunities.
To find out more on scheme, visit https://scrinvest.com/how-we-help/india-growth-champions-scheme
About ZOO Digital.
ZOO Digital supports major Hollywood studios and streaming services to globalise their content and reach audiences everywhere, by providing world-leading, technology-enabled localisation and media services.
Founded in 2001, ZOO Digital operates from hubs in Los Angeles, London and Dubai, with a development and production centre in Sheffield, UK. The company is targeting $100m sales in the medium term.
The Group provides media services through its platforms that include: ZOOsubs, ZOOdubs, ZOOstudio. Its full-service proposition delivers the end-to-end services required to prepare both original and catalogue content for digital distribution; these services include dubbing, subtitling & captioning, metadata creation & localisation, artwork localisation and media processing. Alongside this offering, ZOO also provides its customers with management platforms and strategic solutions to support their own internal globalisation operations.
ZOO is a go-to service partner for media businesses looking to globalise their content across different territories, languages and distribution platforms. Using its innovative technology-enabled approach, ZOO helps its customers to reduce time to market, lower costs and deliver high quality products to their global audiences. The business has frameworks in place with all major Hollywood studios and streaming services. Its customers include Disney, NBCUniversal, HBO and ViacomCBS.
ZOO's competitive advantage arises from three interlinking factors – the leading role it has played in the digital transformation of its sector; the world class proprietary platforms that it develops to enable this transformation; and the global supply chain of thousands of freelancers, working collaboratively in ZOO's platforms, which delivers services that scale easily to meet demand. These factors combine to make ZOO uniquely geared to capitalise on new market opportunities in a fast-paced and constantly evolving industry.
INFO & SHARE
Last Updated: 18/08/2022
Published In: Invest
LOOKING FOR SOMETHING OLDER?
Browse our archive of press releases older than 12 months.
BROWSE ARCHIVES
The latest news...
To find all of our press releases and news stories visit our dedicated news section
SEE ALL NEWS