There has never been a better time to invest in South Yorkshire
Innovation
With specialisms in the areas of Advanced Manufacturing, Health & Wellbeing, Energy and Digital, South Yorkshire is at the forefront of Industry 4.0.
Our Advanced Manufacturing Innovation District (AMID) is the UK's largest research-led advanced manufacturing cluster and home to high-value businesses and skilled software engineers which are pushing the boundaries of digital efficiency.
At the heart of the AMID is the Advanced Manufacturing Park (AMP) and the University of Sheffield's Advanced Manufacturing Research Centre (AMRC); driving forward innovation and growth within the region with high value engineering, manufacturing research and skills development since the early 2000s.
We are home to the UK's High Value Manufacturing Catapult, which has incubation facilities for fledgling businesses at the Advanced Manufacturing Park Technology Centre and innovative and enterprising programmes for new business ideas such as Y-Accelerator. We're known for generating 'best of breed' engineers who are recognised worldwide for their expertise and pioneering skills.
Through our Advanced Wellbeing Research Centre (AWRC), we are also becoming renowned for wellness, for the prevention of health issues and the prolonging of our quality of life. We have strengths in the design and production of medical instruments which are exported across the world, further strengthening Sheffield's reputation on an international stage in the field of healthcare.
We're also home to the NIHR Children and Young People MedTech Co-operative (NIHR CYP MedTech) funded by the National Institute of Health Research (NIHR). Sheffield is one of the UK's 11 MedTech Co-operatives which work with clinical teams, academics, businesses, and service users to support the development of new medical devices, healthcare technologies, and technology-dependent interventions for the NHS.
In addition, the Royal Hallamshire Hospital in Sheffield hosts the NIHR CYP MedTech, which is dedicated to child health and paediatrics, focuses on developing technology for young people living with long term medical conditions.
Devolution
The UK government has devolved powers for South Yorkshire to the South Yorkshire Local Enterprise Partnership (LEP), under the Governance of the Mayor, Mr Dan Jarvis.
This means that the region will have new powers and will benefit from an additional £30 million annual allocation over the next 30 years to encourage economic growth. Inward investors will benefit as major decisions can now be made on a local level, giving greater local autonomy, power and control, which will make doing business here in South Yorkshire even easier and open up a number of potential competitive advantages.
Devolution will equip our local leaders with the tools and resources to support jobs and businesses, unlock opportunities for our people and for inward investors and enable us to deliver better public services.
Our region will also have devolved transport powers and funding; full devolution of the Adult Education Budget of around £35m a year for colleges and training providers; increased planning capacity and powers to deliver housing and economic growth; plus greater control over how and where funds are directed.
Great connections
South Yorkshire has the benefit of a super-connected economy – we're within 65 miles of six airports, making international travel convenient and easily accessible.
We're also at the heart of the UK's road network, with 60 per cent of the nation's manufacturing industry within a 2.5 hour HGV drive and access to Europe through the nearby Humber ports. Plus, we're only 90 minutes from London by train and have connectivity with neighbouring cities such as Leeds, Manchester and Birmingham.
A great place to live and work
As a region, we offer a fabulous quality of life to residents. We have an exciting city with a number of Michelin-starred restaurants, surrounded by thriving communities and market towns – every year we attract visitors from all over the globe, contributing to a substantial visitor economy.
Wherever you are in South Yorkshire, you're never that far away from being in the great outdoors. With the Peak District National Park right on our doorstep and a unique mix of city living and vast outdoor adventure.
We are home to the largest regional theatre complex outside of London and play host to a vibrant sporting culture which includes cycling, hockey, football, cricket and snooker. We also have the English Institute of Sport, the country's largest multi-sports training centre.
Whether it's craft ale or cutting-edge art; stately homes or some of the UK's most renowned shopping complexes, such as the Meadowhall Centre; ancient woodlands or a packed programme of festivals and events, South Yorkshire has something for everyone.
Scale Up Support
South Yorkshire Mayoral Combined Authority's team of specialist inward investment experts work hard to help organisations reduce their risk and enjoy a streamlined way of doing business. We offer competitive property and employment rates, an extremely supportive industry environment and a well-qualified and committed workforce.
We also offer various levels of scale up support, from industry advice to details of the latest funding and grants available, to help large and small & medium enterprises (SME's) located in our region to thrive.
We support local businesses looking to develop their international connections through a wide selection of global business development programmes, including the renowned India Growth Champions Scheme.
Northern Powerhouse
As part of the Northern Powerhouse, we are working together, giving confidence to our international investment partners and making our region even more attractive to other potential investors.
Together, we are also tackling some of the biggest challenges we collectively face, whether that's the environment, productivity, social mobility, or enabling healthier lives.
Download our 'South Yorkshire Investment Guide' (PDF, 5.4Mb)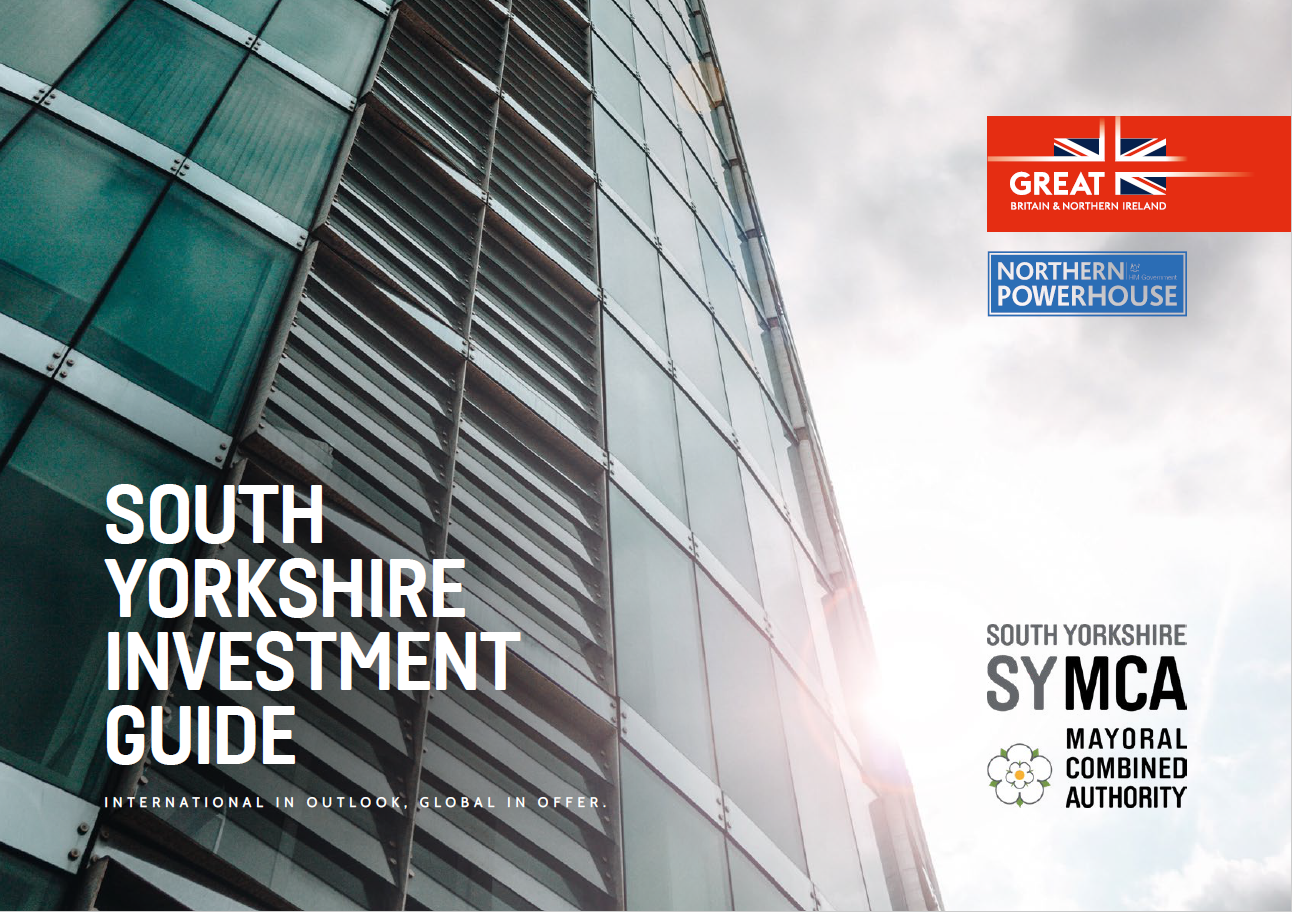 What else is in this section?
Related news