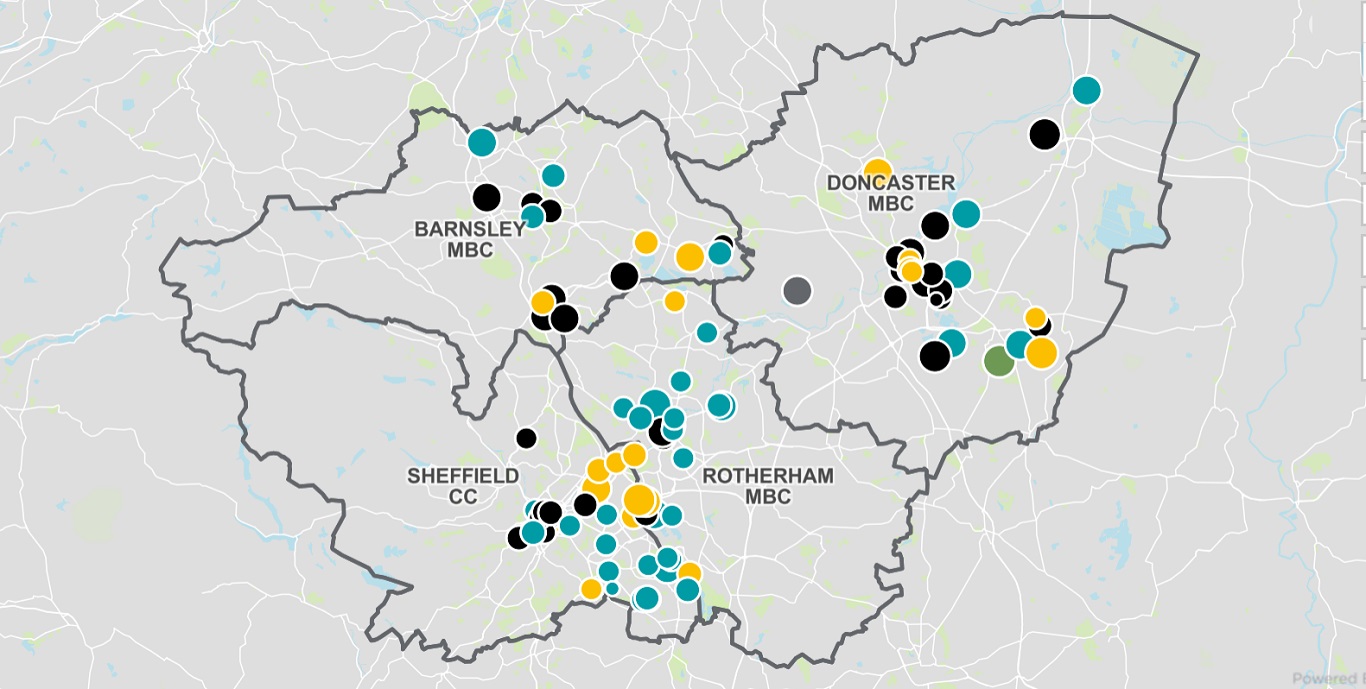 South Yorkshire offers a unique set of investment propositions that build upon our strong heritage of innovation-led manufacturing and engineering.
Whether you are looking to finance, design, develop or deliver on schemes, there are a variety of property investments available to you, which can be viewed via our interactive and visual online portfolio.
The interactive portfolio enables you to explore where our wide range of opportunities are, the primary functions of each site, surrounding public transport routes and key metrics for each of our investment propositions, which includes:
Commercial Property – we have a wide range of industrial and office space opportunities within our region.

Retail – we have opportunities both for retail occupiers and to invest in new retail developments – medium and large scale.

Residential – we have a wealth of housing opportunities, both in town and city centre schemes, as well as major new greenfield sites prime for development.

Leisure – opportunities are available for you to invest in sporting and leisure schemes – including the Sheffield Olympic Legacy Park.

Infrastructure – major infrastructure investments are available which will facilitate connectivity and will better link our major towns and cities.

Manufacturing – our region is renowned for advanced manufacturing, plus research and innovation into new technologies – industry 4.0 opens up extensive opportunities.

Health – investors will find wide-ranging opportunities in the development of digital and medical tech, with many pioneering research projects being undertaken here.

Hotels – new opportunities in the hotels and hospitality sector are arising as our region is rapidly growing its reputation as a destination for tourism.

Energy – we are well positioned to deliver the Government's Industrial Strategy ambitions for 'affordable energy and clean growth' and to be recognised as the 'Green Heart of Great Britain'.
Global Innovation Clusters and Incubators
South Yorkshire is an international magnet offering a range of attractive investment opportunities that connects people, businesses, ideas and innovation.
We have multiple opportunities suitable for investors and businesses working across various sectors including advanced manufacturing, health, wellbeing, digital, energy, automotive and construction.
Our Global Innovation Clusters include an ecosystem of innovative opportunities, such as the AMRC, AWRC, Digital Media Centre, Olympic Legacy Park and many more.
We also have several incubator investment opportunities available, including office and commercial space, retail and hospitality facilities and trade counters, suitable for independent businesses and SME's.
Visit our visual investment portfolio

---
Download our Investible Propositions (PDF, 2.6Mb) or the 'South Yorkshire Investment Guide' (PDF, 2Mb)
What else is in this section?